Comparative chart
Model
Cutting
width
Cutting
lengths
range
Cutting
speed
Compressed material thickness
Total installed power (50 Hz)
Bulk
material
Continuous
material
Soft
material
Special
fibers
S45
450 mm
6 - 150 mm
300 cuts/min.
75 mm
4 Kw
N45
450 mm
3 - 125 mm
405 cuts/min.
75 mm
7.1 Kw
R45
450 mm
3 - 125 mm
380 cuts/min.
75 mm
10.8 Kw
N60
600 mm
4 - 118 mm
290 cuts/min.
125 mm
13 Kw
CT60N
600 mm
5 - 360 mm
250 cuts/min.
180 mm
25.5 Kw
P26
260 mm
0.1 - 8 mm
85 - 400 cuts/min.
2 - 40 mm
16 Kw

Working diagram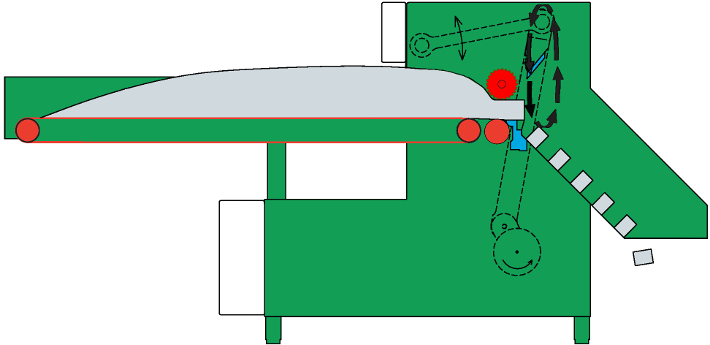 MAIN FEATURES
Cutting width: 450 mm (± 18").
Acceptable compressed material thickness: 75 mm (± 3") according to the type of material.
Maximum material thickness at infeed: ± 200 mm (± 8") according to material compressibility.
Cutting speed: 300 cuts/min.
Range of cutting lengths: from 6 mm (± 0.2") to 150 mm (± 6").
Production varies according to the material, cutting length, loading, ..., and may reach over 1,200 kg/hour (2,650 Lbs/hour).
The cutting machine is driven by a three phase asynchronous motor with IP55 protection.

DESIGN
Simple, accurate knife adjustment via two detachable handles located on the front panel of the machine.
Compact and sturdy machine.
Simple, quick and practical cutting length adjustment by exchanging pinions.

PRACTICAL ADVANTAGES
Minor wear of the cutting edge can be taken up in seconds while the machine is working.
All PIERRET knives are straight and can be sharpened on a separate grinding machine, ideally one manufactured by PIERRET. The mobile knife is double-sided.
A separate control station used to control the machine functions is within the operator's reach.
Quick dismounting of the feed table.
A special feed table design totally eliminates penetration of foreign material between the conveyor belt and the sides.
The cutting machine can easily be moved with a fork-lift or a pallet jack.
Easy to clean under the feeding belt.
Easy to clean the inside of the machine.
Easy access to the entire transmission of the machine.
The feeding may be reversed by the simple movement of a lever.

OPERATION
The material is conveyed on a feeding belt to an awaiting hardened steel fluted roll. This roll compresses the material on a smooth roll and draws it efficiently towards the knives.
The scissor effect produced between the mobile knife and the fixed knife guarantees a clean edged, melt-free cut, easily and accurately.
The machine stops automatically in over thickness conditions with withdrawal facility by feeding reversal.
The machine stops automatically in case of a material wrap-up.